What is a Plan and what is Plan Management?
An operator may wish to view a series of cameras from several DVRs over a period of time, he may want the display of particular cameras viewed to change periodically without human intervention.
He can choose a selection of cameras from the available DVRs and specify a period for which each should be displayed, this selection can be saved in a list called a 'plan'.
The SightBOSSTM software can maintain 2 lists, a master (called 'Large' plan) and a secondary (called 'Small' plan) list.
Small Plan

Defines the cameras selected and defines how long each camera should be displayed for, these display times being expressed in seconds.

Large Plan

Defines an activation time for one or more of the 'Small' plans.
Each of these plans can be saved with a descriptive name for easy identification and SightBOSSTM provides a means of adding, editing and deleting these plans under it's 'Plan Management' facility.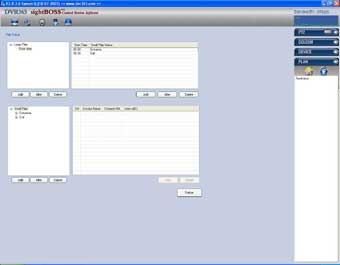 Example:

A council may define a master 'Large' plan called Daytime becoming active at 09:00 am that uses smaller plans to display cameras around the market square and shopping areas. This may be followed by a second 'Large' plan called Evening becoming active at 10:00pm which calls smaller plans to display cameras around the pubs & clubs.

The choice of cameras within any of the small plans may be changed at any time independently of the large plans that use them.